Mission
Promote vaccination and provide access to immunization community-wide.
VISION
Community immunity against vaccine-preventable diseases.

History of Super Shot
Super Shot was founded by the compassion of two determined community leaders who cared deeply about the health of local children.  Dr. Jane Irmscher, Health Commissioner of the Allen County Health Department, and Sister Mary Conrad Kirchhoff, a Poor Handmaid of Jesus Christ, brought key community leaders together to address our community's low immunization rate.  The alliance that made Super Shot possible was Parkview Memorial Hospital, St. Joseph Medical Center, the Lutheran Hospital of Indiana, Fort Wayne Community Schools, the Fort Wayne/Allen County Board of Health, the Junior League of Fort Wayne, Three Rivers Health Services, the Fort Wayne Healthy Cities program, South Fort Wayne Kiwanis, and Matthew 25 Health Care Clinic. Their legacy of compassion and care for children continues thanks to the generous support of our community.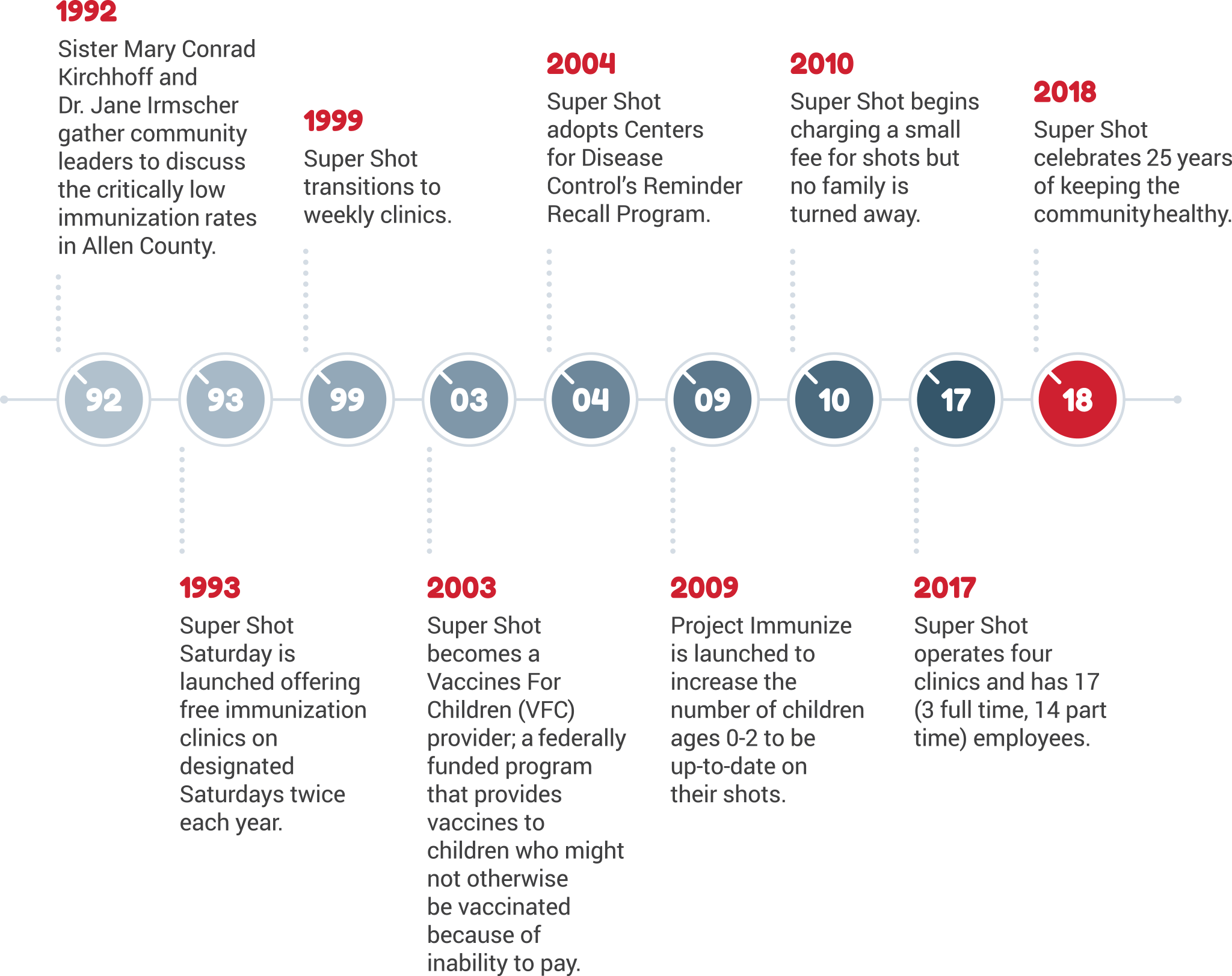 Staff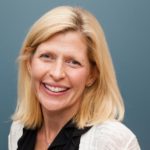 Connie Heflin
Executive Director
connie.heflin@supershot.org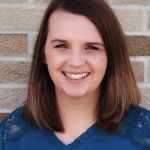 Staci Kaczmarek
Clinic Manager
staci.kaczmarek@supershot.org
Board
CHAIR
Gail Doran
Physicians Health Plan of Northeast Indiana (PHP)
CHAIR-ELECT
Doug Beebe
Benchmark Human Services
VICE CHAIR
Gregory Perigo
Indiana Tech
TREASURER
Donald R. Shook, Jr. MBA
Community Volunteer
SECRETARY
Sarah GiaQuinta, M.D.
Parkview Health
DIRECTORS
Mary Hess, BSN, RN
Fort Wayne Community Schools
Susan Johnson
Community Volunteer
Deborah Jones
Community Volunteer
Krista Peak
Neighborhood Health Clinic
Mona Reimers
Ortho Northeast (ONE)
Don Schenkel
Wayne Pipe & Supply
Meredith Stout
Lutheran Health Network
Jane Jorgensen
Community Volunteer
Press Room
Super Shot June 2023 E-Newsletter
'A Fort Wayne success story': Super Shot expands during 30th anniversary
Fort Wayne Mayor Tom Henry leads by example with flu and COVID-19 shots | Greater Fort Wayne Business Weekly
Fort Wayne Community Schools Offer Vaccination Opportunities to Students | journalgazette.net
Super Shot plans back-to-school immunization events | wpta21.com
Super Shot poised to help in recovery from pandemic and its fallout | Columnists | journalgazette.net
Super Shot scheduling appointments for youngster COVID vaccination | wpta21.com
Vaccines get boost on southeast side | Local | The Journal Gazette | newscyclecloud.com
Press Release – Super Shot Permanent Home March 23, 2022 (PDF)
Press Release – Parkview partners with Super Shot for children's COVID vaccine 11-3-21 (PDF)
IU Health invests $100K into Super Shot efforts in Fort Wayne | WANE 15 (04.20.21)
A shot worth taking: Flu vaccine benefits outweigh minimal risks (The Journal Gazette – 10.29.19)
Super Shot marks 25 years of service (The Journal Gazette – 08.22.18)
Super Shot marks 25 years of service (Northeast Indiana Regional Partnership – 08.22.18)
Super Shot Celebrates 25 Years of Service (WBOI – 08.16.18)
A shot worth taking – Anti-vaccination arguments easily overcome (The Journal Gazette – 08.13.18)
A shot at health – Super Shot, at 25, has more work to do (The Journal Gazette – 07.19.18)
Employment Opportunities