Help keep our community healthy!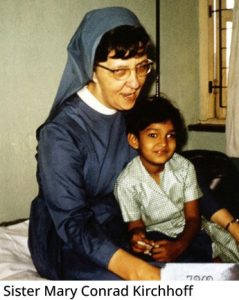 It all started with the compassion and concern of Dr. Jane Irmscher, Health Commissioner of Allen County, and Sister Mary Conrad Kirchhoff, a Poor Handmaid of Jesus Christ, when they brought community leaders together to address our community's low immunization rate. Their legacy of compassion continues thanks to the generous support of foundations, corporate donors, and individuals. Through these donations, we are able to operate our clinics and provide life-saving immunizations while turning no one away for inability to pay.
Your gift will help provide immunizations to over 8,500 children annually and keep our community healthy. On behalf of our clients and community, we thank you!
Donate online by clicking the "Donate" button or mail your donation to:
Super Shot Inc.
1515 Hobson Road
Fort Wayne, IN 46805
---
Where does the money go?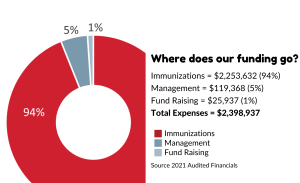 Become a Corporate Sponsor
Please partner with Super Shot to increase access, break down barriers, and build community awareness of the importance of vaccinations. We rely on the generous support of foundations, individuals, and corporate donors to generate approximately $515,424 annually to operate our clinics and programs. Together, with your support, we can save lives and build a healthier community. Donate via the form above or email info@supershot.org to have the sponsorship packet mailed to you.
---
Super Shot Inc. is a registered 501 (c) (3) non-profit organization. Our Federal Tax ID is 35-2122575, and your financial donation is tax-deductible to the fullest extent allowed by law.