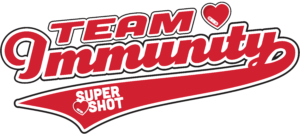 Immunization is the best way to protect our entire community – our children, parents, neighbors – everyone against deadly diseases. 
Super Shot is partnering with Anthem Blue Cross & Blue Shield, WANE 15, MDWise, and the Fort Wayne TinCaps for the Team Immunity Project. The first 500 children who get immunized between May 15 and June 15 will get a free TinCaps game ticket and a special Team Immunity t-shirt. In addition, one child will be chosen at random to throw out the first pitch at the TinCaps game!
Community immunity is a team sport – find out how you can get in the game to stay healthy!
#VACCINESWORK